Study Abroad Programs for Department of Classics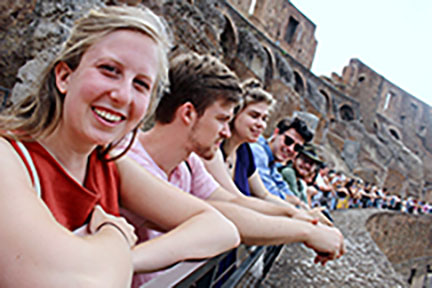 The Department of Classics has educated students abroad since 1970. Faculty-led programs take students of all colleges and majors to Rome and throughout Italy and Europe to explore Classical Antiquity and its reception. These programs offer great opportunities to add a Major or Minor in Classics and to gain valuable career-building skills.
UGA Classics in Rome offers undergraduate students nine hours of course credit during the summer and UGA Classics Europe: Unearthing the Past offers undergraduates six hours of course credit in Maymester with itineraries throughout Europe.
The Department of Classics belongs to the Intercollegiate Center of Classical Studies in Rome (ICCS),  the American Academy in Rome (AAR), the  American School of Classical Studies in Athens (ASCSA), and College Year in Athens (CYA), all of which offer study abroad opportunities for students of Classics. Consult the Archaeological Institute of America (AIA) for opportunities in archaeological site excavations.
Affiliated UGA Study Abroad Programs
Students may also explore other Study Abroad opportunities offered by the University of Georgia: