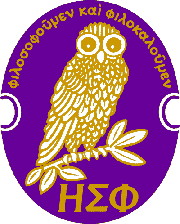 Eta Sigma Phi is the national honorary collegiate society for students of Latin and/or Greek. Members are elected by local chapters which have been chartered by the national Society. The purposes of the Society, in the words of its Constitution, are "to develop and promote interest in classical study among the students of colleges and universities; to promote closer fraternal relationship among students who are interested in classical study, including inter-campus relationship; to engage generally in an effort to stimulate interest in classical study, and in the history, art, and literature of ancient Greece and Rome."
The UGA chapter of Eta Sigma welcomes all students in good academic standing with an interest in classical languages and culture to be a part of our honor society. We are involved in classical activities and lectures on campus and promote fellowship between students and professors. Our chapter also strives to have a positive impact on our community through a variety of service activities.
Membership:
New members have a choice between a one-time $30.00 initiation fee for active membership in the national organization (including a certificate and a subscription to Nuntius) or a $10.00 local membership fee without any of the national benefits. Graduate students are welcome to inquire about associate membership. Please pay your dues to our treasurer at one of our meetings, or seal your dues in a clearly labeled envelope and give it to one of the other officers.
National Eta Sigma Phi website
CALL FOR PAPERS. 
The Sixth Annual Undergraduate Classics Conference will take place on March 28, 2020 in Athens, GA. We encourage you to submit an abstract.
SUBMIT AN ABSTRACT:
UGA's Eta Sigma Phi chapter encourages you to submit an abstract for our Sixth Annual Undergraduate Classics Conference: The Evolving Hero. This conference will accept research from all disciplines regarding the classical world. The conference will take place on Saturday, March 28, 2020 in Athens, Georgia.
Abstracts should be no more than 300 words and and will be read anonymously by a panel at the University of Georgia. Please include a title. Abstracts are due Wednesday, January 15, 2020.
Submission will be via Google Form The link can be found below.
Notifications of acceptance will be sent by February 9, 2020.
ABSTRACTS DUE BY JANUARY 15, 2020
With Keynote Speaker Dr. Emily Baragwanath
University of North Carolina
Additional questions should be sent to Haley Higingbotham at hmh60730@uga.edu