Image: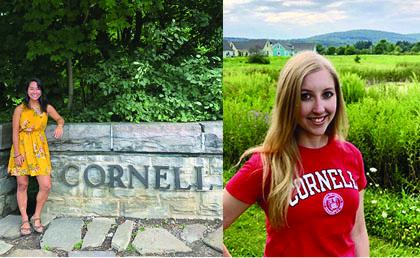 UGA Classics 2019 Alumnae of the MA program, Hana Aghababian and Sarah Epplin, began studies this fall at Cornell University. Attending the same university by chance, not planned; the following is a description from each about time at UGA and plans for the PhD program in Classics at Cornell in Ithaca, New York.
Hana Aghababian (left photo)
I recently graduated from the University of Georgia, and I am now preparing to continue my graduate studies at Cornell University. I will be pursuing a PhD in Classics with a concentration in Greek and Latin Languages and Linguistics. After receiving my BA in Classics at Gettysburg College, I was granted a Fulbright Teaching Assistantship, during which I taught English and Japanese to Slavonic University students in Yerevan, Armenia. I returned to the States in 2017 for the MA in Classical Languages program at UGA, where I concentrated in both Latin and Greek. In conjunction with my Classics courses, I was able to enroll in a number of Linguistics courses, through which I developed an interest in Indo-European phonology and morphology as well as Classical Armenian. With the guidance and mentorship of professors from the Classics, Religion, and Linguistics Departments, I was able to complete my thesis entitled "Translating the Gospel of Matthew, with a Case Study of Latin and Armenian Deixis," which allowed me to combine my linguistic interests with my training in Classics and Philology. I am looking forward to my upcoming years at Cornell where I hope to further develop my multidisciplinary approach to research and to continue growing and evolving as a Classical Linguist and scholar.
Sarah Epplin (right photo)
It has always been my dream to earn a PhD - becoming a professor who gets to spend my life teaching and researching my favorite ancient authors and texts is the best job I can think of! I am excited and grateful to join the Classics PhD program at Cornell where I will have the opportunity to keep following that dream (and even better - with full funding!) I will be doing a concentration in Philology & Literature, but one of the things that drew me to the program is its diversity of faculty and student interests. The core of my studies will be focused on Greek and Latin language and literature, but I can supplement my work by taking classes and working alongside scholars concentrating in linguistics, archaeology, history, art, and other sub-fields of Classics. Cornell also has fantastic faculty and resources for the study of Late Antiquity and Early Christianity, which is my particular area of interest. I plan to study Christian sacraments and the language that early Christians used to talk about their beliefs and practices. I am especially interested in Roman North Africa during Late Antiquity. Working on my Master's thesis at UGA with Dr. Erika Hermanowicz gave me the opportunity to complete my first long-term research project on sacraments in North African Christianity (I wrote about the eucharistic theology of Tertullian) and got me excited about future related projects which I hope to work on at Cornell. As I move on to the next step in my academic career, I want to thank the Classics faculty at UGA for all of their guidance and support for my goals, and for pushing me to set higher expectations for myself and become a more confident and capable scholar. I know there are many more challenges coming on the road ahead, but I could not be more excited to move to Ithaca and to get ready for all of the new opportunities and experiences that await me at Cornell.