Image: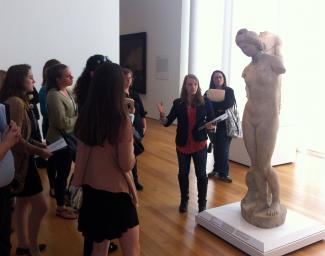 On October 24-25 students in Assistant Professor Mark Abbe's Classics-Art History course "Approaches to the Study of Greek and Roman Sculpture" travelled to the North Carolina Museum of Art in Raleigh to study the museum's important and diverse collection of classical statuary. Graduate and advanced-undergraduate students received a unique behind-the-scenes tour of the museum, including meetings with the Curator of Ancient Art, Dr. Caroline Rocheleau, Conservator Noelle Ocon, and Exhibition Designer Eric Gaard. Students made detailed, seminar-styled presentations on the museum's most important works, ranging from honorific Greek and Roman portraits to statues of gods and cultural heroes to Roman funerary reliefs. Through this unique study-course, students creatively combined archival research of the object files and immediate physical scrutiny to critically apply the wide range of current methodological approaches in the study of ancient art.
Our Classics undergraduate students' participation in this field trip was made possible by the Devaux Fund.
Image 1 (top): Advanced undergraduate student Chiara Tondi Resta presents her research on a life-size marble statue of Aphrodite from central Italy in the North Carolina Museum of Art. 
Image 2: North Carolina Museum of Art Conservator Noelle Ocon discusses current conservation treatments in the museum's Conservation Laboratory.
Image 3: North Carolina Museum of Art Curator of Ancient Art, Dr. Caroline Rocheleau, describes the recent installation of the Egyptian collection.