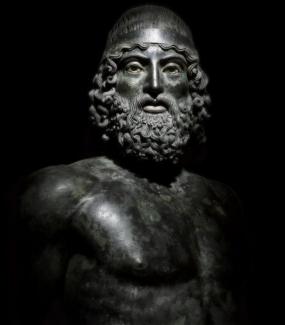 Vinzenz Brinkmann
Head of Antiquities
Liebieghaus, Frankfurt, Germany
Lamar Dodd School of Art, S150
Willson Center for Humanities and Arts 30th Anniversary Distinguished Lecturer
In 1972 an amateur snorkeler on holiday at the isolated beach of Riace in Calabria (southern Italy) by chance discovered two exceptionally well-preserved monumental ancient bronze statues partially buried on the seabed. Dating from c. 460 BC and representing Greek warriors, the so-called Riace Bronzes remain the highest quality Greek bronze statuary to survive from the classical world. They arrestingly exemplify how fifth century Greek sculptors developed a new style of representation in bronze to create lifelike, spatially dynamic figures with acute psychological characterization. Yet, despite exhaustive study over the last forty-five years, there remains no consensus about whom or what exactly the Riace Bronzes represent. Nor is it clear where or how they were displayed in antiquity. Are there overlooked clues that might allow the riddle of these famous bronzes to be solved?
Join Vinzenz Brinkmann, one of the foremost international experts of classical Greek sculpture and Head of Antiquities at the Frankfurt Liebieghaus, for an innovative, if not revolutionary, reinterpretation of these iconic sculptural masterpieces from the fifth century B.C. Reception to follow.
This lecture is made possible by the Willson Center for Humanities and Arts as part of the 30th Anniversary Distinguished Lecturer Series.