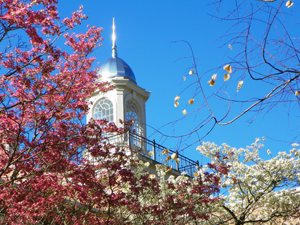 Directory
Faculty and Staff
Our facilities 
Classics through the years
Our annual updates and news
"The high-sounding song of Homer, the sweet notes of Virgil, the stirring narratives of Xenophon and Caesar, the denunciation, the suasion, and the arguments of Cicero, heard no more in the native land of the philosopher, were familiar sounds on the air of Athens."
So William Meigs describes Athens, Georgia, in the early days of the University, during the presidency of his great-grandfather, Josiah Meigs. As this quotation suggests, there is a long tradition of Classics at UGA, a tradition that today is strong and vibrant.
The discipline of Classics was central to the rise of universities in the Western culture tradition, and students have taken Latin and Greek at the University of Georgia since it opened its doors in 1801. Indeed, in the early years of UGA, orations at commencement were often delivered in Greek or Latin to reflect the classical course of study at the University. Today, the Department of Classics at UGA offers three kinds of classes: Latin language and literature courses, in which students read and translate Latin (these courses carry the LATN prefix); Greek language and literature courses, in which students read and translate ancient Greek (these courses carry the GREK prefix); and Classical Culture courses, which cover classical literature, history, and material culture and are taught in English translation (these courses carry the CLAS prefix). For undergraduates, we offer majors in Classical Culture (no ancient languages required), Greek, and Latin and a concentration in Classical Archaeology; we also participate in the undergraduate Certificate Program offered by the Center for Archaeological Sciences. For graduates, we offer majors in Latin (no thesis required) and in Classical Languages.
The undergraduate and graduate degree programs of the Department of Classics rank among the largest and strongest of Classics departments in the United States. Our students have won numerous competitive scholarships and other awards, and our graduates have gone on to excellent jobs in a wide range of careers—including teaching at the primary and secondary school levels—and to Ph.D. programs at a variety of prestigious universities. Explore this website to find out more about Classics at Georgia.